Emily Pallotta
Questrom 2010 | Manager, Strategy Consulting - PricewaterhouseCoopers
Emily studied Finance and Business law in Questrom and was also a starting player on the Women's Soccer team. Upon graduation, Emily joined PricewaterhouseCoopers (PwC) as a strategic consultant, where she has risen through the company's ranks with exceptional speed and today is a Strategic Consulting Manager
Introduce yourself
Hi my name is Emily Pallotta and I am a Manager in the PricewaterhouseCoopers (PwC) Advisory practice focusing on leading strategic business transformations at Fortune 500 Financial Services clients. I began my career in management consulting after graduating from Boston University (BU), where I was a member of the Questrom School of Business Honors Program and captain of the Division I soccer team.
At PwC I excel in leading teams and working with C-suite clients to solve their business problems. My experience at a variety of insurance companies and banks has enabled me to develop an understanding of the Financial Services industry and become a versatile advisor. I have delivered results across various consulting disciplines, such as organizational redesign, process reengineering and regulatory advisory, which offered challenges that expanded my intellectual curiosity.
While balancing the rigor of a consulting schedule, I remain dedicated to communities that impact me. I espouse my Boston roots by regularly attending Red Sox games, including the World Series in 2004, 2007 and 2013. As an avid runner, I recently fundraised for the Red Sox Foundation team and completed the 2014 Boston Marathon in the top 5% of female finishers. I also consistently remain involved in the community of my alma mater, BU, by speaking at events for the Questrom School of Business and the Athletics Department.
Briefly assess your career progress to date and elaborate on your future career plans
After joining PricewaterhouseCoopers (PwC) upon graduating from Boston University's Questrom School of Business, I quickly became immersed in high-profile, strategic consulting projects within the Financial Services Advisory Practice. Now, almost four years later, I have consistently been noted as a top performer and have led strategic business transformations at seven Financial Services clients. As one of the youngest managers in PwC's Consulting Practice, I excel in leading teams and working with clients to solve complex problems.
In my first year with PwC I earned a promotion to Senior Associate two years ahead of schedule after supporting a finance transformation project for an insurance client. The feedback I received from the client and PwC leaders highlighted attributes that differentiated me from my peers, such as my natural commanding presence and ability to work collaboratively to develop solutions. During this time, I actively sought experiences that broadened my exposure to different clients and areas of expertise. This range of experiences allowed me to develop an understanding of the Financial Services industry and become a versatile team member capable of leading work across various consulting disciplines, such as process reengineering, organizational redesign and regulatory advisory. I also further developed my abilities to manage teams and initiatives through involvement in internal PwC activities, as demonstrated by driving business development efforts, becoming a career coach and cofounding an organization to enable professional development and social connectivity for Northeast Consulting staff. As a result of my ability to deliver projects across various consulting disciplines while excelling in internal leadership positions, I earned another early promotion.
As a new Manager, I led a three person team and organized more than ten functional area experts to conduct an enterprise-wide operating model diagnostic for a commercial insurance provider. The project was challenging due to the breadth of organizational analysis and the new performance expectations as a Manager. Nevertheless, the work was praised by the client's Executive Committee and it influenced my career aspirations. This experience enabled me to realize my interests and identify opportunities to address gaps in my expertise. In particular, this project inspired my desire to focus on operating model strategy work, which involves analyzing how business objectives are achieved through an organization's people, processes and systems. Additionally, this experience highlighted opportunities to deepen my expertise in business strategy and international business and expand my understanding of functional areas, such as human resources. Building my expertise and functional area understanding will enable achievement of my future career plans, which include becoming a Partner at PwC and eventually driving the Firm's people strategy as the Global Human Capital Leader on the PwC Leadership Team.
The best mistake I ever made was…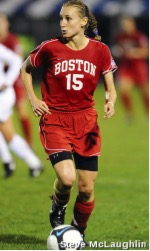 The best mistake I ever made was attending Boston University (BU). As a strong student and All- American athlete in high school, I weighed many competing characteristics related to my college decision, which included family history, academic prestige and athletic program strength. My Midwest roots indicated that Indiana University was a natural choice; all five of my immediate family members and more than half of my Mother's family graduated from Indiana University. Other mentors and friends advised me to leverage the combination of my scholastic and soccer skills to attend the 'most prestigious' academic institution, by agreeing to offers from University of Pennsylvania or other interested Ivy League schools. Alternatively, I had opportunities to walk-on the team at some 'powerhouse' athletic programs, such as those in the Big Ten and Atlantic Coast Conferences. The facts are that BU is not in the Midwest, not an Ivy League school and rarely spotted on ESPN. For some time after I started at BU, I thought I made a mistake as I struggled to strike a balance between challenging academics, competitive athletics and the college social scene.

In hindsight, attending BU's Questrom School of Business (Questrom) and being a four-year starter for the soccer program was not only the right choice but also the best choice. By the end of the first semester I was a key contributor to the soccer team with an A average and I began to recognize the merits of choosing a balanced undergraduate experience. This balance allowed me to participate in extracurricular activities that enhanced my experience as a part of BU Community, such as being part of the Questrom Honors Program, being a captain of the soccer team and being selected as the Questrom Commencement Speaker. The rigor of the classwork and the competitiveness of our top 50 soccer program allowed me to develop into a versatile young professional. The adaptable skills I gained at BU are abilities I call on daily in Consulting; a role that requires me to have knowledge across several disciplines and interact with diverse stakeholders. Additionally, my experience at BU also allowed me to develop strong relationships that I maintain through involvement in recruiting activities, Questrom Honors Program events and soccer reunions.